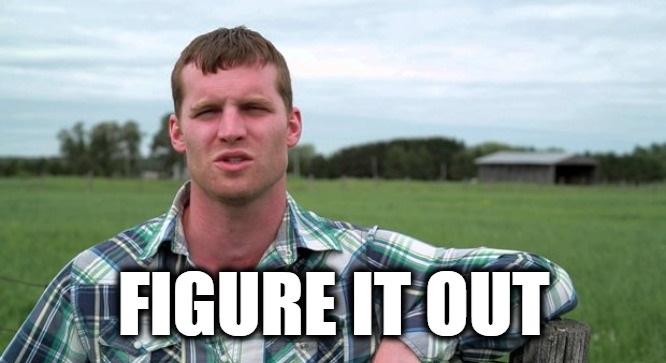 "Figure it out…that's what I say…figure it out…"
Another reference from Letterkenny to start a blog post, another southern Ontario expression that means "it's obvious, what's the problem?" or "just do it." Here in B.C. there is a similar expression: "give your head a shake." It's supposed to indicate that everything you're making complicated is really just pretty simple.
The Cynefin framework is like that. It gives you something to help you give your head a shake when you are confronted with a confusing situation. The framework is useful in so many ways, but here are a few that help you get started using it.
If you're confused, just stop for a moment and think about it. Cynefin, is a decision-making framework. It helps you to decide what to do. So when you DON'T know what to do, the Cynefin domain can help you figure out what kind of problem you have and what to do about it.
There is nothing wrong with being confused, that is why I consider the middle domain of Cynefin the most important one. Confusion has the benefit of inviting us to stop and figure out what's going on. It's not the same as chaos, where we have to act in order to preserve ourselves or restore order. Confusion is the pause that makes us question what is going on. So the first benefit of Cynefin is that it has a place for confusion, and I invite folks to enter to the framework from that point.
Is this knowable or not? At a high level Cynefin divides problems into ordered and unordered problems. An easy way to know which one you're facing is to ask yourself questions like this:
Does this problem have a stable solution?
Is there someone out there who knows for certain what to do?
Can I learn how to do this myself, and get repeatable results?
Can I predict the outcome of my actions with certainty?
Have I solved this kind of problem before?
If you answer "yes" to one of these questions, then you know you are in the ordered domains. If it is a thing you can do on your own right now, using best practices from the past, you are in the clear domain. If it's something that an expert can do for you – someone who has the answer and can fix the problem – you are in the complicated domain.
If you answer no to these questions, then you are in the unordered domains, and probably in the Complex domain. If you are panicking, in the middle of a crisis, or in some kind of physical or emotional danger, then you are in Chaos, and you're probably not sitting down to think about what domain you are in, anyway.
Ordered problems are pretty straight forward to solve. In the ordered domains we solve things with a linear sequence of steps that goes like this:
Understand the problem
Decide what makes sense to do
Do it
Evaluate the results
In the Cynefin world this is basically what is meant by "Sense – Categorize – Respond" or "Sense- Analyse – Respond." The results of your actions will be almost immediately clear to you in these types of problems. Either you have fixed the problem or you haven't. The more complicated your problem, the more expertise is required to both solve the problem and evaluate the results, but at the end of the day things are doable and solvable and it's clear to everyone that the intervention worked.
If it's Clear, just do it. Clear problems are easily solvable by doing things that you've done before. You might think that Clear and obvious problems shouldn't be confusing at all, but sometimes we get into tricky situations where our minds cloud our thinking. We can overthink something or stare at a problem, not sure of what we are looking at. I have often had that experience while using public transit in unfamiliar cities. I stare at the ticket dispenser not knowing what to do. Sometimes it takes a person behind me to point out the big STEP 1, STEP 2 and STEP 3 instructions for me to see how to actually buy a ticket. Because systems are different in different places, and design isn't always awesome, I often get confused the first time I travel in a new city. Once I figure it out though, I never have that problem again.
If it's Complicated get an expert to do it. A Complicated problem is solvable, but not by me. It's why I hire people to do my books, maintain my webserver, fix my car, repair my appliances, or maintain my musical instruments. If something is Clear to you and not to others, there is value in your knowledge, and so folks that have specialized problem-solving expertise make their living charging money for this value. There is something immensely satisfying about solving problems, and many folks that I know who work constantly in the unsolvable world of complexity, have hobbies that are are merely Complicated. Knowing that a problem is Complicated is a great relief, and then it's just down to finding the right person to do it for you.
The secret to unordered domains is working with constraints. This is a tricky one to get, but basically the first thing to know about the unordered domains is our standard Western models of linear problem-solving don't work here. The reason for this is that things are non-linear and emergent in this domain. Problems seem to spring up from out of the blue, and if we try to figure out what caused them, we head down rabbit holes. The system that gives rise to problems is unknowable in its totality, so we can feel free to release ourselves from needing to know everything and concentrate instead on finding patterns. Noticing patterns in unordered problems is hugely valuable. When we see patterns, we can hypothesize that things are probably Complex. When we can't see patterns, things are probably Chaotic.
In the unordered domains, expertise is not helpful on its own – there is no one with an answer – but experience can be helpful. What IS helpful is gathering a larger number of people together to look at a problem and see if they can find patterns in it.
If it's Chaotic, apply constraints until it is safe. Chaos is defined in the Cynefin framework as the absence of constraints. Ther is nothing holding the system together and everything seems random. In those situations, applying a tight constraint can help stabilize the situation to the point that you can think about what to do next. Think of a first responder to a fire, who establishes a perimeter around a burning building, orders people to evacuate and follows clear procedures to suppress the fire with water or chemicals. Applying constraints on behaviour and firm boundaries around situations helps to control it. As you gain control of the situation you can loosen the boundaries, let people back into the area, remove safety gear, cruise the area for hot spots or other dangers.
In psychological chaos, such as times when one is afraid, anxious, panicked, or reliving a trauma, constraints can be immensely helpful in self-regulating. Many therapeutic modalities that work with trauma help give people tools to control their breathing, bring their awareness back online, and gather themselves up. One doesn't;t use these interventions in every moment, but they are helpful in the moment of panic.
If its Complex, work with the patterns. Finding patterns and understanding them is the key to working in complexity. A pattern is basically anything that repeats over time. Patterns represent some stability in a system and they are held in place by constraints. Once you find a pattern, you need to figure out if it is one you want to keep or one you want to disrupt. Either way, finding some of the constraints that keep a pattern in place helps you to work with it.
Think about forming healthy habits. For me working on my own health has been a decades-long struggle to eat well and exercise. I've tried lots of diets – from vegetarian to paleo – and found that the best way to eat well, at least for now, is to eat out of a small bowl using chopsticks. Why? Because those constraints help me be more mindful about the food I eat and the quantity of it I consume. Given a bag of potato chips, my salt and fat-loving body will eat the whole thing. Given a small bowl, and a slower way to eat, I find I can stop much sooner. Likewise with exercise. I have learned that if it is a huge production, I won't get myself together, go out to a gym, and go through a routine using a bunch of equipment. Instead, for the past year, I have followed a simple set of bodyweight workouts from DAREBEE which has highly constrained the activity I do. For the first time in my life, I have stuck to a daily fitness regime and I'm healthier and more fit than I have been in years.
Complexity requires trial and error and lots of experiments. In the Cynefin world, we use the phrase "Probe – Sense – Respond" to capture this idea. Basically, because you can't know what will work, you try a bunch of things to shift unhealthy patterns and stabilize healthy patterns and see what works. If you are getting better results, you do more of that. If things aren't working well, stop doing that. In complexity conflicts get resolved by people DOING things, not arguing over them. We can make better decisions when we have some data that comes from action. If people have different ideas about what to do, invite them to take on small experiments to see if their ideas are promising. You can even have people do two opposite things – "we'll take the high road and you take the low road" – and see how they compare. Experimenting with action is a far better way to find promising practices than constant arguing about the "right" thing to do.
So there are a few ways in which Cynefin helps you to figure things out. If you are an experienced practitioner, what would you add to this list? If you are new to Cynefin, what resonates most with you?