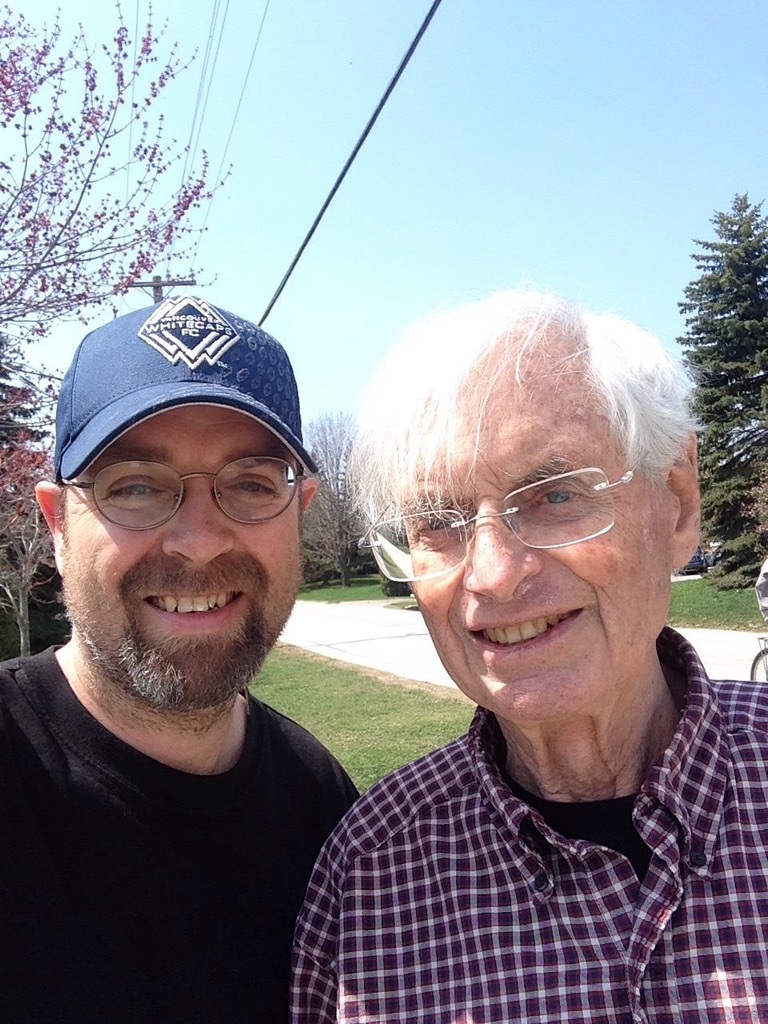 My beautiful dad died back in December, and with COVID it has taken us nearly six months to organize his memorial service. But yesterday we had it – and you can watch it here – and I think he would have loved it.
So today I wake up for the first time in my life not having a father to call and wish a Happy Father's Day. So instead, I will just leave my eulogy for him here.
---
Thank you all for coming. I know it means a lot to our mom and our family and a lot to each of you to be here to remember our dad.
We are here to remember a man who spent every minute of his nearly 84 years on this earth in almost utter astonishment and gratitude that he was given the chance to do so. He was a man of nearly infinite patience and who was never easily flustered. A natural problem solver, he saw every challenge as something worth improving, and if he could do it, he'd make a spreadsheet and gather his tools and his friends and make it better.
It was always a bit of a running joke in our family that everything my father did was somehow represented on a spreadsheet with a paper copy stored in a binder. If he was coming to visit for a week the itinerary would be laid out in excel and forwarded to all the family members with relevant ticket codes and hotel phone numbers and car rental reservation information. We knew a trip was happening when the spread sheet arrived in the inbox.
His love language was planning . Order facilitated a life lived from the heart. Anything that could be mapped, coated and planned and logged was done so so that he could be free to enjoy camaraderie and friendship and the myriad surprises along the way. For him everything was a chance to learn a new story. And he was blessed by the traditional skill of our Irish immigrant ancestors with the "gift of the gab."
He made sense of his life through story through his memoir and the hour long phones calls we would have together on.a Saturday afternoon. I have heard the same stories dozens of times but I never grew tired of hearing him explain what was happening in the valley, how the weather works over the bay, what was going in around him in the world. He shared his frustrations with politics and actions of people that sowed unkindness towards others, and he shared his hope in the young leaders he saw coming up around him who were working for a world where good people did things from the sense of integrity he knew deep in his bones.
But for someone who was so in love with order, he wasn't a control freak. Instead, he planned and organized as much as he could because it allowed him to have a deeper experience of the mystery of life. If there were any problems, they were easily dealt with by consulting the spreadsheet. If there was anything important to remember, it was in the binder. Solve it and then move on to taking it all in. He was never rushed, never hurried. He was patient and kind and loving and curious and couldn't wait to see what would happen next.
I've never known anyone quite like him. When he was a young man perhaps 16 years old, canoeing the backcountry lakes and portages of Temagami he had a very powerful spiritual experience. His party was having a horrible day on the Lady Evelyn River, paddling upstream through rain wth many portages and fast water to navigate. The route involved dragging the canoe through strong rapids and at one point Dad stepped into a pool of deep water and became submerged. He was tired and wet and cold and struggled to surface again, and when he finally did, the rain had turned to hail and he was pelted on the head as he struggled to get to safety. He clambered ashore, and his party got sorted out and carried on and just as they came into view of the final turn in the river, the hail stopped and a fantastic rainbow covered the sky. He described it as his Epiphany.
My dad and I often talked about this experience, and I think this contributed in large part to his embrace of life and the goodness and equanimity with which he met people and events. As much as we joke about his penchant for order, his life was really about gratitude, service and love. That experience ingrained something powerful and quiet and persistent in him, that came to take shape as a deep gratitude for living and a deep love and appreciation for everything around him.
So let's talk about my dad from the perspective of something he loved, because that is how we knew him.
He loved life deeply and generously. He loved family, history and the natural world. He loved his community and he loved this valley. He loved the constant motion of a boat rocking on the waves and the brilliant sharpness of a bluebird day on the ski hill. And what he loved he wanted to share with the world through story or experience so that we too could taste life the way he did. Late into his life I would often watch him notice some small thing that captured his attention and hear him quietly say "that's amazing!"
His early life was filled with adventures and travel and I think he very much wanted us as a family to experience what he had. When we moved to England in 1978 for three years, he sold it to us as a chance to see the world. I'm not sure how much weight he gave the opinions of three children of 10, 8 and 4, but he was good to his word. We travelled around Europe and the UK, visiting many of the places he had visited in his years of travel in the 1960s. We skied together in Italy and Austria and visited museums and cathedrals as we camped across France. To this day I still know all about Stem Christie turns and Flying Buttresses and Battle of Britain and Stonehenge and Merlin's Cave carved into the rocky, sea battered cliffs of the Cornish coast..
When we returned to Canada, he made sure we could go to camp at Wabikon in Temagami because he deeply loved that wilderness and I think he wanted us to experience what had transformed him there. I went for one summer but my brother got bit by that bug and followed in my dads footsteps as a counsellor, returning for many summers to that amazing lake.
As we grew as kids dad was supportive of our passions and interests. He taught me three guitar chords when I was 11 years old and I've never looked back. He instilled a love of sailing in my brother who has crossed the Atlantic and sailed extensively in the Caribbean. And he was right beside my sister as a coach and supporter as she pioneered her way up into the elite ranks of women's hockey in the late 1980s and early 1990s before anyone paid much attention to the women's game.
We grew up at his knee learning the stories of his life through a set of three characters he called Jonathan, James and Lou, three kids who would go on all kinds of adventures together. It took me years to realize that those were our middle names. Jonathan, James, and Lou flew on bush planes around northern Ontario and went on canoe trips and explored old mines and had all manner of adventures.
He was optimistic about our abilities. Dad taught me the binary number system before I started kindergarten. Apparently on my first day of school I taught it to my friend Paul, who went on to a successful tech career. So at least we benefitted the whole neighbourhood.
I think as young adults we both confounded and delighted him. None of us followed traditional academic or career paths, but I think each of us has been guided by our character, and he loved that. Suzanne is a veteran 911 police dispatcher, Tim is the managing partner of a commercial production firm and my partner Caitlin and I run a consulting business working with non-profits and Indigenous communities. He was proud of us and interested in what we were doing and wanted us only to be happy and fulfilled in our work.
When our own children came along he thrilled at watching them grow and be a part of their lives in the way that Suzanne has just spoken of.
He had a kind of gentle fearlessness. I think the only time I ever saw him afraid was driving in the roads above the Verdun canyon in France when I think he even surprised himself with vertigo. I don't remember him ever being afraid, and that might just be a father's son talking, but there was never a wind too strong for him, never a slope too steep, never a challenge he wouldn't try to meet. That's not to say he took foolish risks. He didn't. But he seemed never to back out of something because of fear. My last conversation with him was about the possibility of being airlifted to Toronto for medical care, and even in the midst of everything that was going on in his last days, he was still looking forward to his first ever helicopter ride.
He loved to travel especially when the trip was meaningful. My dad was always up for a good time, looking to hang out with locals and learn about the world from their stories. In 2012 I took him on a two week trip to Ireland to attend a leadership workshop I was leading and so that we could visit Northern Ireland and the ancestral townlands of his father's family. Our workshop was held on the east coast of Clare in The Burran and every night after a long day of conversation and learning, our group would eat supper and then retreat to a fabulous little whiskey pub called O Lachlainn's. The conversation and atmosphere was fabulous, the whiskey and stories flowed and on the first night we emerged at 2:30 in the morning and dad checked his watch and wondered where the time had gone. Undaunted he was up early the next morning to do it all over again. That began a tradition we had of sharing a night cap of Red Breast whenever we were together, and often when we were apart too. When we returned from that trip he presented me with a bound book of photos and reflections of our trip together. Because of course he kept a log.
Family and connections meant so much to him. Our trip to Northern Ireland culminated with a visit to Fairlawn, the house his great grandfather had been born in and to Kinneary House, the house our family built when the moved from Scotland in the 1600s. We began the day in a butcher shop in Moy talking to a local amateur historian about where we might find these places. We travelled through the countryside looking for the houses and met the current occupants of both. Fairlawn long ago transferred out of our family, but at Kinneary House we met brother Simon and Sinclair, my first cousins seven times removed who were tending to their cows. We showed them the family tree book that we had and pointed to our signet rings which had the same crest of a phoenix rising from the ashes that hung above on the lintel above the front door. That day we finished our visit in awe standing by the graves of generations of Corrigans buried in the Church of Ireland grave yard in Moy. When we returned to the butcher shop to thank our young guide he said "I asked around after you left, and I want you to know that the Corrigan family are remembered very fondly here."
But while his children and grandchildren were so dear to him and his ancestors inspired him, he loved our mother most of all. He loved no one more deeply than my he loved my mother. They were together for 55 years and he loved her unconditionally.
He loved the natural world and he felt lucky to live here blessed even with the cold and snowy winters the beauty of the fall colours, the apple blossoms of spring and the soft summer of wind and lake. It spurred him to work for the natural beauty through the Bruce trail association, and to experience it through canoe tripping, sailing and skiing, hiking and biking .
My parents moved to the Beaver Valley in 1997 and he loved this community from the moment he arrived. He resolved to learn everything he could about it, from the geology and natural history to the history of people and community, and he thought deeply about how this place could be at its best in a world of transition and change. He was always balancing tradition and novelty and he threw himself into that work, because for him, it was important to put actions behind your words.
He was acutely aware of this moment in time, held between tradition and the new. He held deep admiration for the apple industry and the orchard families of this region and he recognized that, like him, many new people were coming to this valley and they should be hosted here just as he was, through the library or the Probus club or the social activities that enhanced belonging. He loved telling the story of how he taught two young Iraqi refugee boys about the absurd rules of baseball or how proud he was when, as chair of the library board he was able to help provide reading and videoconference services to the migrant workers from Mexico and Jamaica of this region through the library long before any of us took zoom calls for granted.
He loved the vibrant social life of this region and all it had to offer.
In short, he loved you all. He loved you as community members, club members, citizens and friends.
That was what spurred him on to try to make things better for people here and it got him involved in local planning and the tedious work of policy and bylaws. His love of order in service of life made him the perfect person to work on these issues and even when his eternal patience was stretched by the long pace of public decision making he never lost his curiosity and commitment to this work. His devotion to the public good won him the trust and confidence of many and to him that was the greatest reward.
That love for place and people is not an in born talent. It comes from polishing one's goodness on a regular basis. He worked on himself to make himself better, through his entire life. His church and Masonic life was important to him because they reminded him of what he learned from his Epiphany and of what is required to take one's precious life and devote it to services. Nothing was a mere obligation for him.
One of our Ministers from St. James-Bond United Church in Toronto used to finish his services with this benediction:
"Go into the world with a daring and a tender heart. The world is waiting for you. Go in peace and may all that you do be done because of love." My dad was the very embodiment of that blessing.
I had many many conversations with him about his faith and his death and life and I think he and I see it the same way. On December 27 he left us in the grandest adventure of all. To join with the sources of undifferentiated live that he glimpsed on the Lady Evelyn River. He lives on in the stories and tender affections all of us here hold for him. He was a humble man who achieved greatness in a way that that most of us can only to aspire to: to be good and kind and curious and grateful every day of our lives.
A grateful life well lived.
I figure that a eulogy is probably as much about the person delivering it as it is about the person being eulogized. That being the case, what you have heard from me is what I admired about my dad and I have no doubt that each of you remember him for the ways he inspired you to be better too.
I think that is probably the most important measure of a person's life and in that respect, my father's quiet, gentle goodness, his diligence and integrity, his dedication as a friend, and most of all his unconditional love for our mom and his family is a standard that we can all measure ourselves by. By doing so, may we meet the world where it is at and do our very best, as he did, to leave it better than we found it.