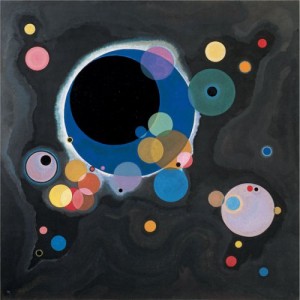 Natalie Angier,  inspired by Kandinsky,  celebrates the circle,
I also learned of Kandinsky's growing love affair with the circle. The circle, he wrote, is "the most modest form, but asserts itself unconditionally." It is "simultaneously stable and unstable," "loud and soft," "a single tension that carries countless tensions within it." Kandinsky loved the circle so much that it finally supplanted in his visual imagination the primacy long claimed by an emblem of his Russian boyhood, the horse.

Quirkily enough, the artist's life followed a circular form: He was born in December 1866, and he died the same month in 1944. This being December, I'd like to honor Kandinsky through his favorite geometry, by celebrating the circle and giving a cheer for the sphere. Life as we know it must be lived in the round, and the natural world abounds in circular objects at every scale we can scan.