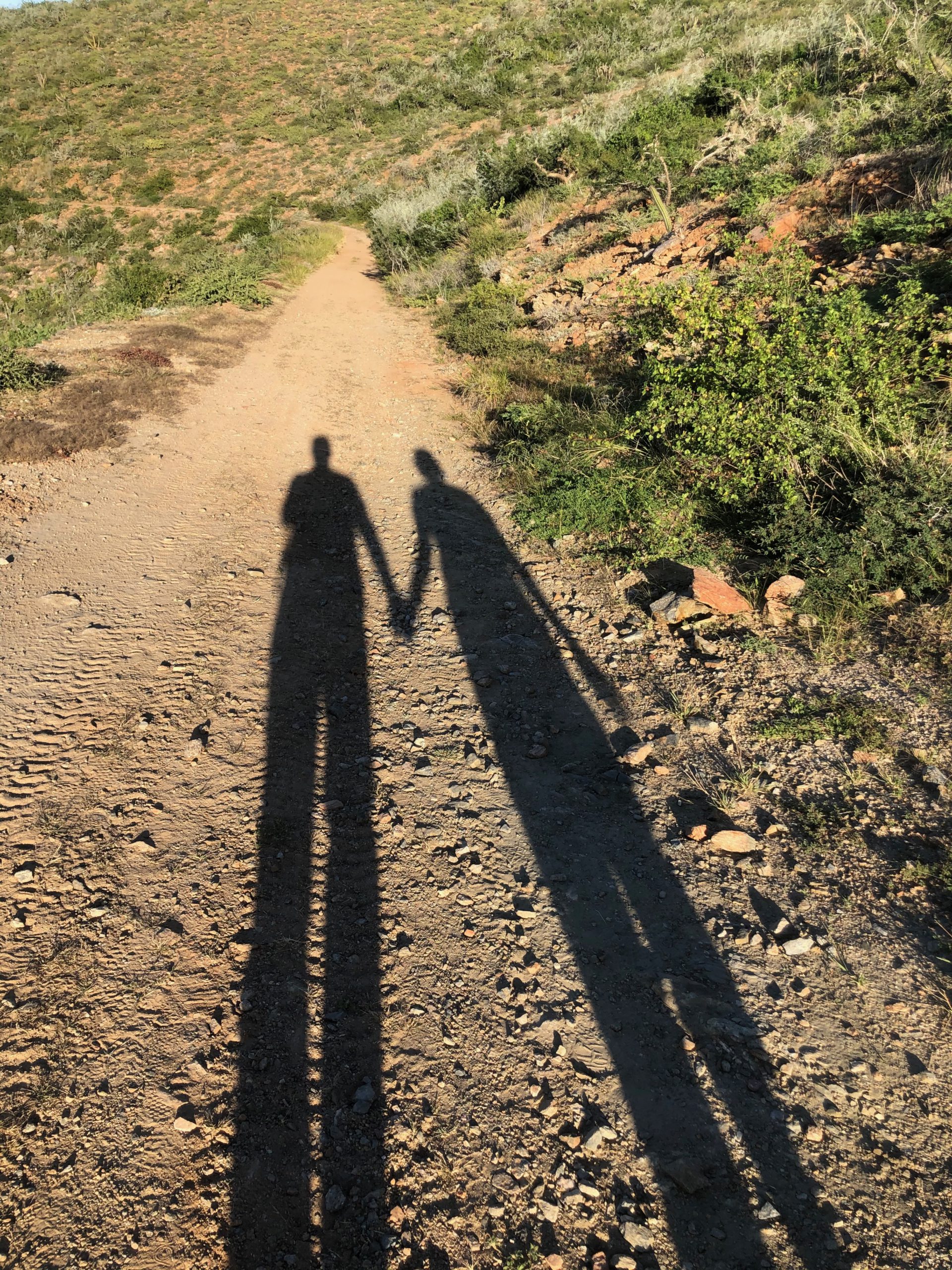 Reading: Psalm 119:1-8
Nan Merrell Version from Praying the Psalms.
Blessed are those whose ways are blameless
Who live with spiritual integrity
Blessed are those who honour the Inner Being
Who follow you with their whole heart
Who enfold the world with love
and walk on the peaceful path
You have shown the way of Truth
the way that leads to freedom
O that I might ever reflect the Light
Then I shall know inner peace
as I surrender myself into your Hands
I will praise You with a grateful heart
as I lean on your great kindness
As I forsake the path of Darkness
O have mercy on me.
Sermon
Back in 1994 when Caitlin and I moved to the west coast, we drove across the country, taking three months to do so. We followed our hearts or the intriguing names of places on the map, driving no more than three hours a day, camping every night, exploring the country between the Ottawa River and the Pacific Ocean as we drove into our new life together.
One day we stopped at Grasslands National Park. It was late September, and the prairie grass was dry and brown. We had the whole park to ourselves. We camped in a tipi ring on top of a coulee overlooking the Frenchman River and looked across the valley. From horizon to horizon, we counted seven trees, so we decided to visit them all. It took us two days.
Our first hour of walking was boring. We traveled down the side of the coulee into the valley and saw nothing of the wildlife that we were promised by the breathless copy in the Parks Canada brochure. With every step we took, the tree we were heading toward seemed to retreat into the distance.
Finally, we rested by the side of the river, where we encountered a coyote trail. Instead of mindlessly chasing the tree, we decided to follow the trail and see where it would take us. Almost immediately we spotted a badger den, and then a prairie dog colony full of gophers nervously nosing the air and keeping one eye on us. The trail took us past burrowing owl nests, rattlesnake hibernacula, and within sight of a herd of antelope who could see us coming for miles. At one point we were joined by coyotes, one leading us and one following behind, both a couple of hundred meters away, like respectful guides or watchful parents. I had the stunning realization that the continent at one point was covered with this uninterrupted meshwork of trails and that they carried a walker past all of the living features of a landscape.
When you walk the path, life is revealed.
This reading comes in the midst of Epiphany, the liturgical season in which we reflect on what has been brought into the world through the teachings and example of Jesus. In ten days we will begin Lent, which is an intense time of practice for us. For many of us, Lent centers around a commitment. That might be giving up a habit that no longer serves us or perhaps, more positively, focusing on a habit that we can build over 40 days of practice. If we grew up with a dose of Christian guilt we might be conditioned to think that the way to be holy and righteous is to look at all the ways we are bad in the world and punish ourselves for it. Lent might carry with it more than a little trepidation. Years ago however, I read that 40 days is enough time to secure a new habit and that a more affirming way to approach Lent was to do something different rather than stop doing something. Our minds can't hold a negative – don't think about a pink elephant – so as we focus on things that make us feel guilty or shame, we simply allow more of that to take over our hearts.
Instead, choose something different to focus on, something we know brings us closer to the sacred and beautiful source of life and love. Do that one thing diligently for 40 days and see what begins to take hold in you.
The last time I was reflecting here I talked about how the Greek word for "repent" is "metanoia" which means, turn around, do something differently, notice the things that aren't serving you, and do a different thing. It is a positive word, a choice that takes us closer to the sacred, to the Divine, to the source of unconditional love that reminds us that we are Beloved. Like Caitlin and I on the short-grass prairie, it means taking a turn onto a path that will deliver us towards living.
So just in time for Lent, this Psalm shows up in our Lectionary. If we are looking for a few things to practice during Lent, this psalm may offer a nice sourcebook for that.
The Psalm is 176 verses long and structured as an acrostic poem, with each section beginning with a successive letter of the Hebrew alphabet. In all, there are 22 sections with 8 verses each. The Psalm is an at-time ecstatic plea that the writer may live in accordance with God's law, which is best thought of as a path towards wisdom, truth, and spiritual freedom. The law, the way, the precepts, and the path that is spoken of is about the actions of aligning ourselves with a higher purpose and growing closer to the Sacred. The Law here is about living a more loving and meaningful life, mindful of how we encounter the world and cultivating a spiritual awareness that awakens us to beauty, mystery and the goodness of the world so we might live with reverence and joy in every moment. The Psalm is a dance between things the writer longs to practice in accordance with these basic principles of spiritual development, and a plea for the discipline to actually to do it. Sounds like all of us, right?
Nan Merrill's translation of the first 8 verses of the psalm gives us a few things we might want to focus on. And I will be the first to stand here and tell you that these things are simple to say and hard to do, and if you want stories about how to fall well short of one's intentions, I've got a long list! None of us are perfect. But we are all good-hearted, and these practices are for polishing that goodness, not becoming perfect.
We might want to live in a way that stops us from feeling ashamed, by practicing what we preach, and doing what we say. In that case, spiritual integrity is the path. Being aware of what arises in our minds and hearts and what comes out of our mouths or what actions we take. Awareness and mindfulness help us to notice our patterns and habits. Noticing is the first step to change. So what do you want to pay attention to?
Or how about honouring the Inner Being? The Inner Being refers to our true, authentic self that lies beneath the surface of our daily thoughts, feelings, and experiences. It is often described as a spiritual essence or soul that is innate within each of us and that seeks connection with a higher power. It is seen as the source of our deepest wisdom, intuition, and guidance. It is the part of us that is connected to the divine and that experiences a sense of peace, joy, and purpose in life. When we honour the Inner Being, we are tapping into this inner wisdom and allowing it to guide us in our actions, thoughts, and relationships with others. That sounds like a good practice for Lent.
We could choose in every moment to enfold the world with love and practice a commitment to truth. These two precepts go hand in hand. Speaking the truth is made more powerful by embracing love and compassion. Jesus's teaching to "love one's enemy and one loves oneself" is the lesson here. So who could you love a bit more? What part of the world could you enfold in love?
Or we might choose to reflect the Light we speak of when we refer to the Christ amongst us, that conscious pattern of love and connection and belonging. In a world of separation and alienation, we can remember how we are connected together and choose to walk a path of peace, gratitude, and surrender to the beauty and awe that surrounds us. We can sing with others, creating sweet moments of harmony. We can engage in deep conversations about what matters to our hearts, and what we love and long for. What we miss and cherish. These days, it is easy to lay hate on the state of the world, for the changes that are happening to us, and for the conflict that consumes us. Can we find moments to rest in the peace of the world, to watch a seal in the sea, or listen for the changing songs of the birds in the dawn chorus, as spring creeps upon us? Can we daily surrender to the gratitude of a world that hosts us on its surface? Forty days of that is good for the soul.
This is not an intellectual exercise. Like my experience on the short grass prairie, this is about noticing what arises when we walk in spiritual integrity when we walk a path of wholeness and alignment to our true selves. It requires us to be in the world, carried and buffeted by the struggles and celebrations of our life. It is through human experiences that we come to know who we are as spiritual beings. We come to recognize the Inner Being of the Divine within us, to see ourselves as living, loving pieces of stardust. And in knowing this, we come to the ecstatic praise of the intricate nature of love and the gift of our life here at this time and in this form.
As we walk this path, we are invited to enfold the world with love and be enfolded by it. We are invited to become the Beloved, brought into a deeper connection with all that is, a love that opens our hearts to the beauty and wonder of this world, and a love that brings us into the embrace of the divine. It is a love that touches and transforms us and those with whom we interact.
The spiritual life is one that is enhanced by discipline and practice, regular prayer, reflection, learning, and self-examination. Christ's teachings in their simplest form point us to practices that lead us to a life that is for our benefit, that brings us happiness and peace, and that makes the world a kinder, more just, more equitable, more loving place. The promise of these teachings is that unconditional love awaits you at every step on the path. It is right here. The Kindom is at hand.
I encourage you to read the whole Psalm at some point this week. When you do, listen for the longing the writer has for the ability to stay true to a path of loving practice. This is all of us, diligently tuning our hearts to The Way, opening ourselves to the life that unfolds as we walk through this world, feeling the struggle of suffering and the liberation of blessing. Every day become a little more attuned to the fact that we are always, and ever becoming Beloved.