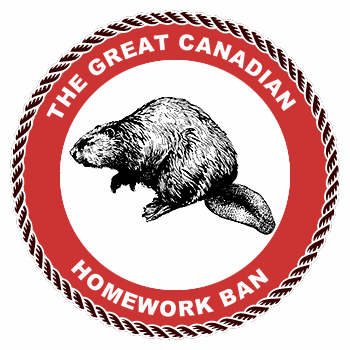 Well, it's been over a week since I linked to Alex's post and unwittingly started a movement. For those of you following along, I was interviewed for a National Post article on the weekend and since then the phone has been ringing off the hook. I've done some talk radio and I have CTV Edmonton chasing me around BC, trying to get me on camera. This week I'm in Prince George, working at my real job, running a World Cafe and an Open Space meeting for the Urban Aboriginal Strategy in British Columbia.
But many people are calling and emailing about this homework ban thing, and we seem to have struck a nerve. What has been really interesting to me is that without exception, every journalist and producer that has called (and we're talking twelve or more at this point) has started out by talking about how much they hate what homework does to their kids and families. Usually when they call they get interviewed by ME, for the first ten minutes or so, so keen am I to hear their story. It has really strengthened my confidence in our decision to unschool, although I appreciate that that isn't for everyone.
Some of the nicest emails I have received have been from the authors of the two books that were recently published and which started this all off. Alfie Kohn, author of The Homework Myth wrote to lend his support to whatever was going on, and I told him I'd send people to his site, which is a rich source of material about learning and working. So go read Alfie's stuff, especially if you are thinking seriously about what is going on in school with respect to teaching, learning, testing and evaluating and you are wondering how to make a case for change.
And then on a more practical level Sara Bennet, co-author with Nancy Kalish of "The Case Against Homework: How Homework Is Hurting Our Children and What We Can Do About It" wrote today and told me about the blog she is starting up at stophomework.com. For those of you that have written to me asking "what can we do?" Sara is the person to get in touch with. Their book even gives examples of emails to use with teachers and principals to get a homework ban going in your school.
And if you are tired fighting with the education system, you have many many options. If you are interested in unschooling as an option, which is what our family does, you can visit my own set of unschooling resources for some reading to get started.
This whole "Great Canadian Homework Ban" is actually just a provocative way to get people to really think about learning. We take so much for granted about the way the school system operates, and there is so much fear connected to success and failure in school that I believe strongly that we are creating a culture that blindly accepts some cultural story about what works and what doesn't. The bottom line, in my own experience, is that every child has their own learning needs, and every parent can help meet those needs by keeping a few basic questions at the top of mind. Think about the school system, and what it teaches. Read John Taylor Gatto, John Holt, David Albert and others and think about the kind of learning environment that will best serve your kids.
And for all those who say "if kids don't do homework they will just play video games" (which seems to be the last line of the crumbling defense) I challenge you to do three things: get rid of the PlayStation, cancel your cable subscription and intentionally spend time with your kids co-creating a list of things you could do together. Like any drug, it's hard to kick, but you'll be glad you did. Tell them that the deal is, you'll support them NOT doing homework if they will engage with you to create real learning experiences outside of school, together. And then take all the free time you'll have and enjoy one another. It's not THAT hard to do.
PS…and because it's a movement now I made a little seal (up above there, with the busy beaver as our mascot, too busy for homework) which you can steal and post on your own blog. Better yet, print out a sheet of them as stickers and plaster them on unfinished homework assignments. Now THERE'S an activity guaranteed to get kids and parents working together!
[tags]homework[/tags]