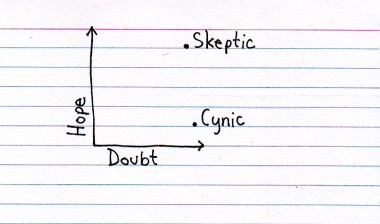 Jessica Nagy captures why it is I can work with skeptics but not cynics.  Much of my work has to do with at least having a sense of possibility.  You can doubt the outcomes or the effectiveness of something, but if you are turned to possibility and hope then you can at least make a contribution.  Cynics have both doubt and hopelessness and unless they offer some alternative, then they become corrosive to processes that are just beginning.
I find in general many people who declare themselves cynical are actually skeptical.  They want some thing to work out, they hold out hope for things, but they hedge their bets.  The trick in doing transformative change work is to work with cynics to unleash the skeptic within.  And if you can't do that, then you have to jettison them from the process.  I have had several projects where cynics have had a dominating influence on our work, and we usually get what they are looking for, which is a grinding halt.
When I am working with core teams to host the core of a process I welcome skeptics but try to establish a principle early on that cynics aren't welcome in the core process.  Once we build a process and a container for our work that is robust enough to hear from everyone and to move forward, cynics are more than welcome, but only when the container is strong enough to hear what they have to say without their influence destroying what is being built.
Having said that, there are times when things need to be taken down, and THAT act of discernment is one that is a practice.  For example, does it pay to be cynical or skeptical about last year's Copenhagen process?  I was cyncial about Stephen Harper's participation in that gathering and said so on my blog here.  So my call to embrace skepticism and cut loose cynics is not a polyannaish call to embrace only the positive and ignore the shadow.  A moral compass helps determine what it is you lend your hope to.
Where do you draw the line between skepticism and cynicism?  How do you work with both?