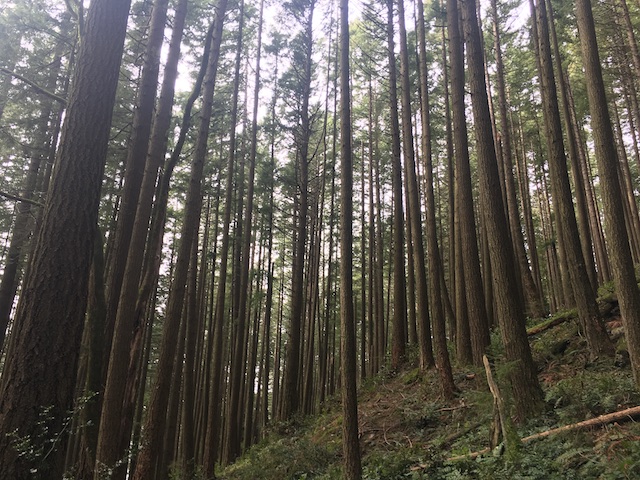 Last weekend I took a ramble across Bowen Island, where I live, with a friend and colleague, Annemarie Travers.  Annemarie and I have been teaching the Leadership 2020 program for a number of years now and we both love walking: she on the long pilgrimages of the Camino and Shikoku and me in the mountains of southern British Columbia.  We are also both interested in managing in complexity.
Saturday we set out to find a trail I had partially walked before – the Mid Island Trail on Bowen Island. I knew of parts of this trail but I didn't where the trail head was on it's east end, hidden as it is off a maze of private roads and driveways. Working on  a tip from another friend, we set out to find it, easily located it and made our way on the trail that comes and goes between being a broad, gravel lined multiuse trail, and sometimes a mere whisper of a path through salal and ferns. It mostly follows old logging road beds, as do many trails on Bowen, now thick within second growth forest. It is irregularly marked, and it travels through country that is criss-crossed with other trails, private land, and deer paths.  It is easy to get lost.
Over the course of the morning as we rambled, we were acutely aware of moving between two states described in the Cynefin framework. At times our walking and trail finding was Complicated (and Obvious) and otehr times it was Complex. thankfully we never experienced Chaos on the trail.  I have experienced chaos while hiking and it isn't pretty, involving as it does helicopters, first responders and extended stays in hospital.
As we walked we reflected from time to time on these strategies and here's what we observed.
Obvious
trail is obviously the mid island trail. Our blue dot lines up with it on Google Maps. Sometimes signs and markers on the trail confirm this.
our minds were not on walking but rather conversation, or looking for the occaisional view, or watching ravens and eagles.
while this is simple walking to do, it can lead quickly to chaos with a misstep or a branch flung into the face of the person behind you. Chaos is never far away if you become completely complacent.
Complicated
Trail finding is a technical exercise, helped by expertise. Finding the trail head for example was helped by the knowledge shared by a friend about what landmark to look for.
There were times when I knew we were not on the trail, even though we were on SOME kind of trail because I had travelled sections of the trail before.
Maps were insanely useful, as were other trail guides. Technical expertise including precise directions and times between points is very helpful.
Tracking expertise helps to distinguish between a deer path and a walking trail.  When the trails grows faint or takes an unexpected turn, well honed instinct and physical evidence (broken branches, prints, bike tracks or even erosion patterns) help make a good decision.
Awareness is on the path, and walking is intentional, lapsing occasionally into conversation about other things when trail walking becomes an obvious activity.
Complex
Is this the trail? Where are we? Sometimes we took a wrong turn and the map doesn't help. There is no cell phone coverage in some parts of the island and we have to bushwack without digital technology to help us.
Probe, sense, respond. Literally. Test out hypotheses that seem coherent with our overall direction of travel ("The trail should be up there; I think it skirts the lake over there; This seems like an old logging road") Take a guess on where the trail should be and head in that direction. Poke the ground with your poles to be sure it's safe. Keep looking around and discerning what's working.
Attractors and boundaries are critical here. Don't go for more than a couple of minutes without stopping to check the hypothesis.
You know it's a well known trail that you are looking for. If it becomes a dangerous slog along a cliff face, you are probably not on it. Such boundary conditions help you to be safe to fail. Ignoring these boundary conditions with hubris can get you killed in the mountains, and have gotten novice hikers even on our small island into rescue situations.
Diverse perspective help here as do people's different tolerances for failure. Trail finding is as much about conversation between each other as it is about the context. We are sensemaking about known unknowns, given the basic attractors and boundaries of looking for a well-defined, well-used trail that runs roughly SE-NW, travels at a relatively low contour and that checks in on some known points. Those boundary conditions helps us manage in places where the current trail is gone.
Chaos
We didn't experience chaos, but if we had, we would have put ourselves in the hands of first responders and let them impose much more rigid boundary conditions to ensure our safety. In chaos, the activity changes from walking to safety, first aid or rescue. New conditions come into play. This is never a condition that you want to experience in any kind of wilderness, even in the apparently genteel and close environs of Bowen Island, where a twisted ankle or knee in the deep bush can make for a very technical rescue. Whenever I go out for a ramble, even on my small home island, I take an iPhone battery charger, a very basic first aid and survival kit (matches, flashlight, garbage bags), and at least one layer of clothes more than I need.
You might think that a hiking with a complexity geek would ruin a walk in the woods, but I invite you to draw correlations between your own pastimes and the organizational or community challenges you face. I firmly believe that each of us is a lot more able to deal with complexity than we might think, and drawing on experiences from other parts of life, using a framework like Cynefin to make sense and port those experiences to other contexts can be a very useful reflective exercise.