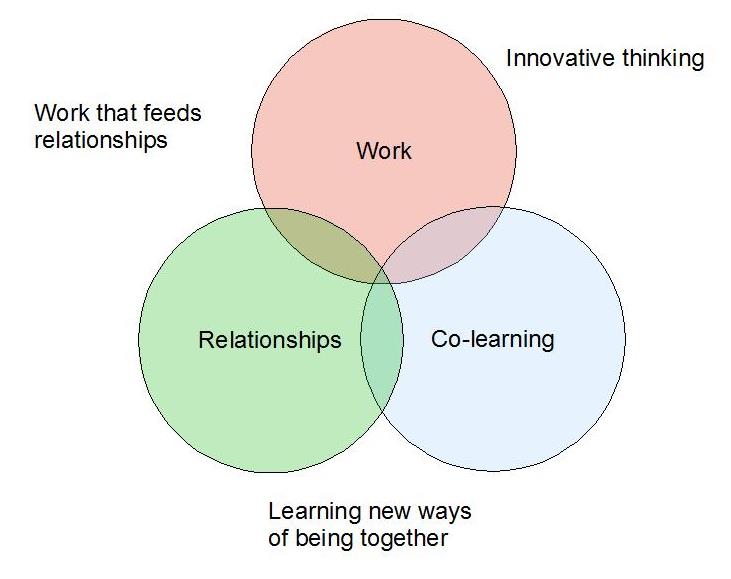 I'm working a lot with communities of practice these days, or more precisely, teams and groups that aspire to becoming communities of practice.  In seeking to be simple about the process of moving from a group to a deeper community, I've been designing meetings using this map, to ensure that we give equal weight to work, relationships and co-learning.  In my experience, when we do that we set the conditions for a group to become more cohesive and to discover new learning and emergent solutions to the issues on which they are working.  This is a design tool, a map to help us keep what's important in mind.  Within each of these three domains are a plethora of practices and tools, and all of these need to be applied wisely, but I am finding this 30,000 foot view useful.
Work

Of course the reason for meeting is to do work. Getting clear on this is important, and I use several different maps for helping groups come to clairty about the work they need to do. My favourite at the moment is what we call the chaordic stepping stones, which is a logical procession of moving from need to structure and practice by anchoring everything we are doing in what is needed at the moment. Gaining clarity on what our work is is important.
Tools for gaining clarity on work include design tools like the diamond of participation, the chaordic stepping stones and other project planning tools that invite clairty about questions and harvest insights back into the team's work.
Relationships
For groups to be more than just collections of individuals, they need to focus on their relationships. Relationships are the glue that keeps work sustainable. When we pay attention to how we are together it creates the conditions for our work to excel over the long term. Teams or communities that have to focus on toxic, competitive or unhelpful relationships spend too much energy caught in conflict and difference and can't get real work done. At the outset of working with a team or community of practice, it's important to identify relationships as a key capacity leading to innovation, excellence or success. And when things go sideways, having solid relationships in place ensures that hte group can find a way out quickly and effectively.
Tools to support good relationships include using participatory and inclusive processes like World Cafe or Open Space Technology and spending time listening to one another's stories and perspectives. A list of principles like these ones help groups focus on what is important in the container of their work. Good process matters..
Co-learning

If an individual or a group is wanting to become innovate or to think or practice its way to another level of work, learning is essential. At a personal level, cultivating curiosity is critical, so that individuals enter work, practice and conversations with questions that guide their participation in an endeavour. Conceiving of these as a learning journey is very helpful in this regard.
Beyond individual learning, collective learning or co-learning is the fastest way to breathroughs. Engaging in collaborative inquiry, co-presencing and co-realizing a la Otto Scharmer's Theory U is important to keep a group on the edge of its own learning. Groups need to practice fearlessness to try to embrace new ideas and new ways of doing things.
Tools to support this work include learning journeys, appreciative inquiry, co-presencing and ongoing high level conversation about what a team is learning – a meta-level process.  
Alive in the intersecations
The intersection of work and relationships results in one feeding other and leasd to sustainability in the kinds of endeavours one is undertaking, especially when the going gets tough.  At the intersection of work and co-learning is innovative thinking that helps to drive work to new levels.  At the intersection of co-learning and relationships is where a group comes to see itself as more than just a team, and learns new ways of being together and new forms of connection that serve the greater purpose.
And of course at the centre of it all is the possibility of community, arising out of a balanced approach to all three domains.
To give this model a test run, think of a number of groups you are currently involved in and think about what you hunger for in them.  It's likely that you are paying attention to just one or two of these domains, and that the missing one contains the thing that you hunger for.
I realize some of these concepts may be unfamiliar, or couched in strange language, but the idea is pretty simple: do what you can to pay attention to an dbalance these three factors and you can set the groundwork for a group to meet in a way that helps it evolve into a community of practice.
I would love to hear reports of how this map describes your territory.