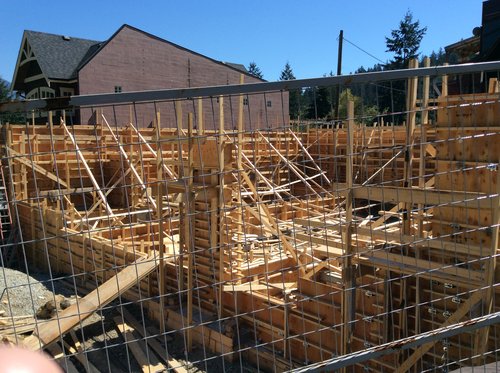 Reflecting these days on some two day courses I have coming up, including one on complexity and social change, one on invitation practice and one on Open Space.
Each of these courses is workshop to introduce people to a practice or a set of practices, as opposed to techniques and skills. In each of these workshops people will come away with an ability to go into the practice, literally as artists. These are not technical trainings designed to download procedures and methods.  They are courses that will leave you ready to practice, ready to make mistakes and learn as you go, and ready to improve.
It's always hard to explain to people when they come on these courses that they will not leave as competent practitioners of the stuff they are learning. All artists make mistakes when they are first using a tool.  What's most important is that you have a way of developing your mastery with a tool, which is to say that you have a framework that helps you understand what you are doing and how well your are doing it. In traditional settings, mentorship is an important piece of this, to help one develop mastery from every attempt as you learn.  The point is that these kinds of tools are useful in complexity, meaning that they are context and practitioner dependant.  How you use these tools and where you use them matters.
Teaching, therefore, requires a disruption to the pedagogy of filling another person's brain and body with competence. In my courses, my favourite answer to questions about application is "it depends." But what doesn't change over time is the body of theory that needs to inform one's practice.
Theory is the constant, and therefore a heuristic (a basic set of measurable principles) are they way to develop practice that is appropriate in context. By theory I mean a serious understanding from natural sciences that underpin the ways systems work.
Courses that are pure theory are generally not helpful without grounding them in practice, and courses that are just collections of tools and practices are somewhat useful but can lead practitioners astray if they don;t understand why things work (or they aren't able to see why things aren't likely to work). So my basic approach to teaching these kinds of things is to use the following heuristic:
Theory
Framework
Practice examples
Application
Teaching theory – in my case usually complexity theory – is critical for setting the groundwork for the practices that follow. If you don't understand the nature of the context you are working in, you are likely to make serious errors in applying practices: linear problem solving doesn't work in non-linear settings.  That seem intuitive but you need to know why and be able to explain it.
Frameworks are helpful because they provide touchstones to connect theory to practice.  When we were teaching the harvesting course last year, we came up with the mnemonic PLUME to describe five heuristics that help practitioners design methods that are coherent with good theory. (We have a new one for the invitation course by the way: VALUE. You can learn more about it on the course or in the blog posts that come as a result of the teaching).  Sometimes that framework is Cynefin, sometimes it's the chaordic path.
The important thing about a framework is that it helps you to create something and then it can fall away and what you have created can stand on its own. If your practice relies on maintaining the integrity of the framework then your framework isn't effective. This is an issue I see sometimes with things like sociocracy where in poor application it's important that people retain accountability to the framework (but not even necessarily the theory). Frameworks should be important enough containers to inspire grounded and coherent action, but not so critical that the action depends on the framework.
Dave Snowden uses the metaphor of the scaffold, which is useful. Build a scaffold to build your house. But if the scaffolding is a part of your house and your house depends on the scaffolding for it's structural integrity, you haven't succeeded
Once we are grounded in theory and have a way of carrying it with us, we can share practices that help practitioners to ground this in real life. I always combine this with an opportunity to apply the learning on real projects. This gives people an opportunity to work together to make sense of what they are learning. It means that folks working on projects get a variety of perspectives from people who have just learned something, including naive and oblique perspectives, which is good when you are trying to do new things.  For those that are giving their help with projects, they learn a lot by stepping into the coach or critic role, as they are forced to think about what they have been learning in an application context.
So that's my basic pedagogy these days. I've been on a few facilitation workshops over the years and been shocked at two things: the lack of theory (so how do I know how your methods work) and the over reliance on tips and tricks, which is basically a kind of addictive mechanism for people learning facilitation. many people are super-interested in adding a few things to their tool box, and while I love helping people add tools, I would never give an apprentice carver a knife without helping them understand why this thing works and what happens if you use it incorrectly.  And I would never say "here's a knife, now go make your masterpiece." Their first effort is going to be terrible, and that's what practice is.  We need more folks teaching the art of facilitation as artists teaching artists and less shady selling of recipes and tools for guaranteed success.