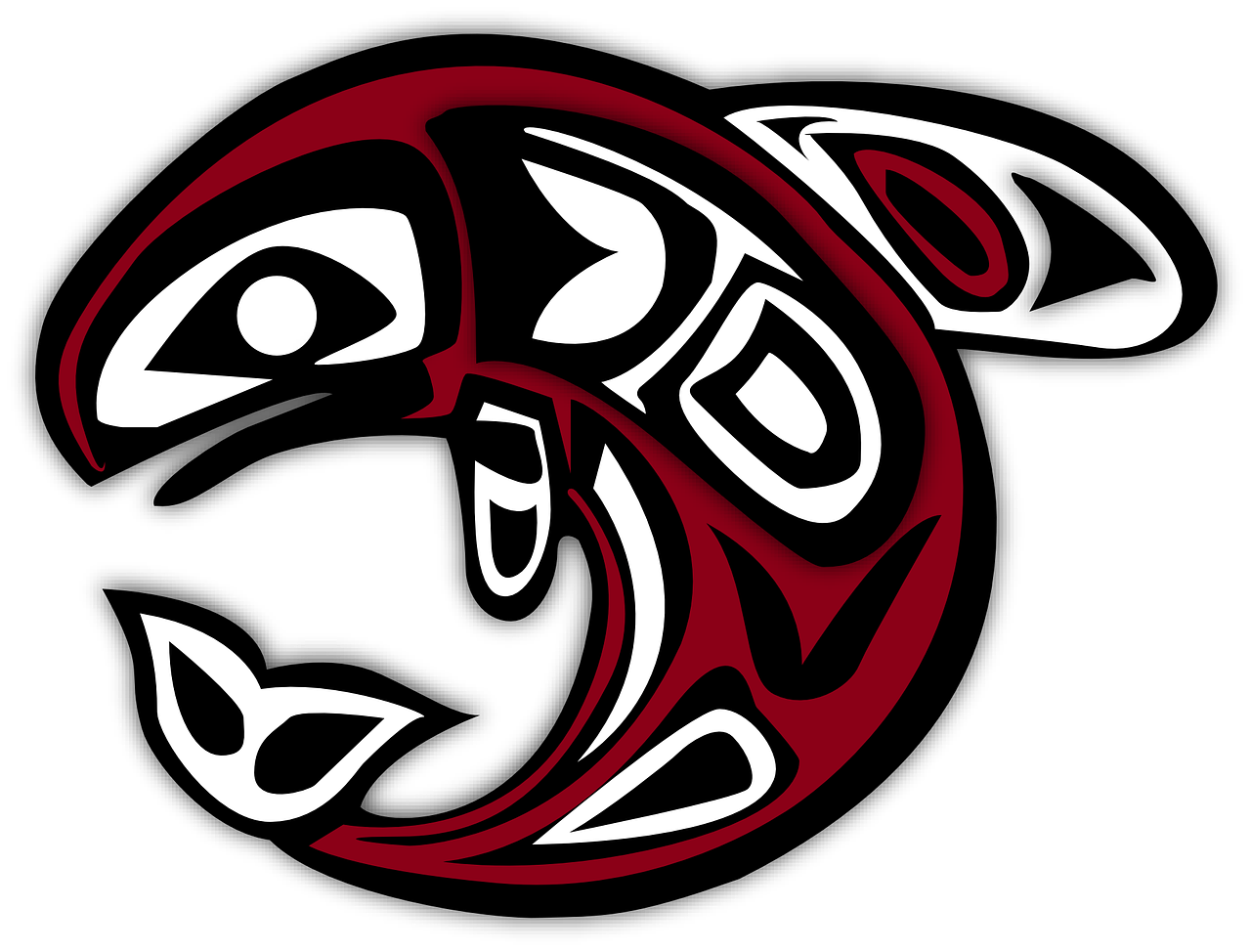 Sts'úkwi7 is the generic name for salmon in Skwxwú7mesh, and in our second module in the Mi tel'nexw leadership program, Lloyd Attig offered practical grounding in his teachings on the medicine wheel as a way of exploring balance.
My home island is a rock rising out of the fjord that makes up the southern half of Skwxwú7mesh Temíxw. We have a few lakes here and creeks that swell in the fall when the rains return and fill the sea with fresh water infused with the taste of our island. Salmon, who have been living their lives in the Pacific ocean for 2, 3, or 4 years since they hatched in these creeks are able to discern the taste of their home stream in the great mix of waters that fills the Salish Sea. They use all of their senses to find their way home at all costs where they spawn and then die, for their life cycle begins and ends in the same stream, and a powerful drive returns them to their source.
Because of this symmetry in their life cycles, the faithfulness of their return to their places of origin, and their crucial role in the ecology of the Pacific coast, salmon are deeply important animals in both traditional and settler cultures here. They are powerful symbols of active balance and they are essential to the health of coastal forests. Up to 30% of the nitrogen used by the giant trees of our temperate rainforests originates in the ocean and is carried to every part of the land through the capillary network of salmon coming home to spawn and die. In this sense they literally connect land and sea, trees and ocean, erasing the boundaries, mixing nutrients and diversifying the health and wellbeing of the entire ecosystem.
Lloyd Attig, used the salmon as his inspiration to lead us through a series of exercises based on the medicine wheel, to examine interconnection and balance in our own lives. Leadership of all kinds demands that we place ourselves in challenging positions where we are likely to be knocked around, knocked off balance and create damaging dynamics for ourselves and others. I know Lloyd is an accomplished boxer, and so his sense of balance and grounding is born of years of experience in the ring. Tip off balance and the moment you are pushed, you collapse and fall.
For Plains Cree people, and many other indigenous cultures the medicine wheel is a powerful symbol of balance and renewal, just as the salmon is here. Breaking the wholeness of the world into four quadrants, it gives meaning and coherence to the stages of life, the seasons of the year, and the interdependence of the human faculties of spiritual, mental, emotional and physical well being. In our course last week Lloyd led us through an exercise to look at how balanced our every day lives are. Working with the mundane – fine granularity and plenty of examples – helps to reveal patterns of behaviour that indicate where to place our attention to address a current imbalance. This kind of inventory is helpful not as a one time thing, but in an ongoing way, reflection within a framework to see where the attention needs to be.
But the medicine wheel is not simply a tool for personal self-development. Individuals are not solo practitioners in a world without influence. We are embedded in high and higher levels of organization, teams, families, circles of friends, organizations, communities, nations. And we are also embedded in time too, as products of everything we have inherited and living ancestors to the thousands of generations yet to come. For me, practicing the balance and interconnection of salmon is to place oneself in relation to everything upon which I am dependant and which, even in some small way, is dependant on me.
Pacific salmon really are amazing creatures because they embody this teaching so perfectly. All five species that make our coast home exhibit the same circular life cycle of hatching in freshwater, growing and travelling over thousands of kilometres during their short span and then fiercely making their way back to the very gravel bed where they were hatched. Their entire life cycle is in service of the next generation, and becasue they die right after spawning, they never meet their young and never pass on knowledge or guidance. As we say, salmon are born orphans and die childless and yet the cycle of life continues over generations.
As individuals, salmon do everything in their power to grow strong and healthy while they are at sea. Some species, like sockeye, stop eating once they return to freshwater, meaning that they face an upstream journey of sometimes hundreds of kilometres against an autumn freshet with only the fat and muscle in their bodies to power them. Their singular drive and commitment to return assures the survival of their line. When they die, their bodies decay in the river and become food for the tiny creatures upon which their offspring will feast, or are carried away by animals into the forest to feed to soil and provide fresh sources of nitrogen and minerals to the hungry trees of the temperate rainforest.
In terms of a model for living balance and interconnection, there is no better standard than the pacific salmon. Tools like Lloyd's medicine wheel give us gateways through which we can explore this deep relationship our own self has to all the systems in which we are embedded. Leadership which is in the service of life, at a minimum, requires this perspective and practice.