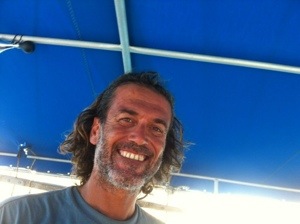 This is Elias. He was the captain of our little 8 cabin Turkish guillet for four days last week as we travelled from Fethiye to Demre. Elias is a terrific guy. He is one with the sea, having grown up in Demre and worked all his life on boats. Captaining the Alaturka for tourist cruises is hard work but for him it is a labour of love. Elias was one of the original Blue Cruise captains who got together around 15 years ago to discuss sharing the south coast of Turkey with visitors from around the world. Until he and his mates put together the idea of four day cruises, this part of the country was remote, consisting of ancient ruins and fishing villages interspersed with some tourist beach resorts like Kas and Kalkan.
Elias has a deep love of this land and sea, and knows it like the back of his hand, He took us off the beaten path to hidden caves and secluded spring fed inlets, to the best places to see dolphins and the best anchorages, where the morning sun was shaded behind towering cliffs. On our trip he kept talking about how he and his friends basically created this tourist industry from scratch, and when you ride with him it definitely has the quality of being hosted rather than being sold. He talked about the stories of intrigue and audaciousness it took to get things going, but when we stopped in the various little villages and twons along the way, you could see the deep affection he had for the men who joined us on the boat, to share a beer and a chat while the visitors were off exploring.
On trip Elias regaled us with stories of a bar that he and his friends built on a little island near Demre called "The Smuggler's Inn." On the last night all of the Blue Cruise boats stop here nestled on calm waters surrounded by little islands populated by Roman ruins and feral goats. A little wooden tender came out to our boat and delivered us to the bar which was a tropical beach tavern crossed with a Turkish cafe, with lots of cushions and chill out spaces, a modest light show and pumping good dance music for all ages. Elias was so excited to arrive here, back at his home base, to chill with his mates, tell some stories, drink some beer and sleep under the stars.
When friends work together like this, the experience one has is of being truly hosted. It is what I aspire to in my work, to welcome people to the warm nest of powerful conversation the same way Elias welcomes you to his coast. And this morning we are leaving Turkey for Slovenia where we will join some of my closes mates in the world to sip beer and share stories and make music and exchange our learnings.
To really see a guy like Elias, it takes one to know one. I'm glad I met him and travelled with him and his crew. And looking forward to being among my own mates this evening.