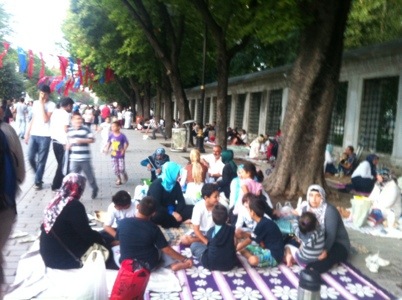 Istanbul is one of the most popular tourist destinations in the world, and it's not surprising why. The city holds so much history of importance to both Europe and Asia that people come from all over to touch it and see it. Although there are lots of Europeans and some North Americans wandering around the Sultanahmet district where we are staying, there are also lots of tourists from Central Asia and Turkey itself visiting during Ramadan. So of course staying in the tourist district it's hard sometimes to glimpse the important things to local people, but two stood out yesterday.
This is the first time I have been in a country with a significant Muslim population during Ramadan. Of course during the daily fasting, that makes it easy to get a restaurant seat, although it means there is a lot less street food for sale. But yesterday as sunset approached, hundreds of families began to gather outside the Blue Mosque with picnic baskets,or table stoves, huge tea pots and containers full of flat bread and fruit. Everything was laid out and waiting for sunset. We decided to watch as the moment approached when the acting would begin. It was beautiful. There was a palpable sense of anticipation and as the daylight waned, the energy increased. Having avoided eating all day, people started cracking open containers, getting seats in nearby restaurants and the buzz increased. Street vendors appeared and we bought a watermelon to eat while we watched. I fact the moment was so powerful, it felt hard to actually eat anything until everyone else did, such was the field of anticipation.
And then the call came out from the minarets which towered over the scene and every began to eat at once. In a nearby restaurant plates of food hit the table all at the same time, and the fast was broken. It was incredibly moving to be among thousands of people who were eating together, so grateful to finally be able to get some nourishment after a long hot day. A sense of togetherness and bubbling joy lit up the Hippodrome and the little parks around the Mosque. A rain storm shortly opened up and even that failed to dissuade many from just sitting with each other, eating and laughing and sharing.
We fled to a restaurant to escape the rain and sat for a while watching people come and go until we realized that his was the evening of the Turkish Suoer Cup between Galatasaray and Fenerbahce, the two biggest teams in Turkish football. This is one of the most intense sports rivalries in the world, and as evidenced by the number of Galatasaray shirts we saw in the crowds during the day, we knew which territory we were in. Galatasaray took an early lead in the match on a goal that you hear acknowledged in the bars and restaurants around us. Everyone was tuned in on radios and by catching glimpses as they could from TVs. We walked back to our hotel to watch the match, at one point passing a car full of six or seven men, all crammed in trying to stay dry and listening on the radio. The game was vicious and dirty and exciting with fights in the terraces and at one point the referee, who was way out of his depth, even considered calling it off. Fireworks and other missiles were being thrown at players, freight train tackles came in, smoke flares were sparked up for each of the five goals, and in the end, after a Galatasaray sending off and despite Fenerbahce hitting a cross bar in time added on top of injury time, Galatasaray won 3-2.
I live in a tourist town myself, so I know how it is when there are two things going on at the same time – the world the visitors see and the world you live in despite them. It was cool to catch a glimpse of real life of local ritual and passion yesterday even as we borrowed their city for our travels.