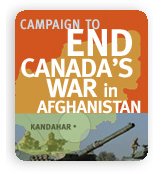 Our federal government announced in it's throne speech yesterday that it was intending to extend Canada's mission in Afghanistan to 2011. I have written before about my thoughts on the war there, and our role in it. Now, I'm adding my voice to a number of other bloggers who are demanding that we end our role in this conflict. Here are my reasons why:
We are in a combat mission in Afghanistan. In other words we are a fighting force participating in a war. This is not a peacekeeping mission. It bears remembering that we went to Afghanistan, and we remain there, as a part of a NATO combat force, not a UN peacekeeping force. We went there originally to unseat the Taliban government and to do our part to fight terrorism 9whatever that means). The Taliban government was unseated in 2002, we were there as a new government took office (although it's not exactly a DEMOCRATIC government). We are now working for THAT government, fighting a civil war against people who don't agree with their government.
I don't believe that we have a role to play by taking sides in a civil war. Afghanistan now has its own government, and the people there need to figure out how to run their affairs. Having NATO doing the dirty work in the Afghan civil war provides no incentive for Afghans to create their own security infrastructure.
To those who object to this line of thinking by saying that we shouldn't abandon Afghans until there is some stability I will agree with this. We should therefore have a conversation within Canada about changing our role from a combat force to a peacekeeping force under the auspices of the United Nations. Of course, we have been at war in Afghanistan since 2001 and our leaders and their friends have been on record saying that we can't negotiate with the Taliban, so perhaps we are not in a position to take a neutral peacekeeping role. I think we have lost that chance.
Darfur is calling. We are unable to respond. I would like our country to be in a position to help in the world where we can be needed.
Our commitments to the first and second world wars lasted 10 years combined. Our commitment to the uncertain outcomes of the Afghanistan civil war wlll stretch this far by the end of the current government's proposed mandate. The outcomes are uncertain, the conditions for victory are unclear and unattainable. Therefore, we should leave now rather than later.
Just to say it again, I believe that we have debased ourselves by using our armed forces to take sides in a civil war. We helped oust the Taliban, we chose not to be peacekeepers after that event. We have no right to be there any longer.
So, I am for Canada ending the mission there post-haste, regrouping our armed forces and redeploying to Darfur where we can do good.
[tags]canada, war, afghanistan, stephen harper[/tags]