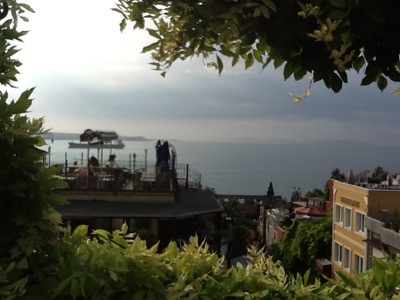 I think it's fair to say that the expression "I'm writing from a rooftop terrace in the old part of Istanbul" has a certain romantic appeal to it.
And this is where I am, having travelled on a short red eye flight from Copenhagen last night, to arrive with my family in a lovely hotel in the centre of Istanbul's most ancient downtown, in the shadow of the Hagia Sophia and the Blue Mosque, and with the Golden Horn and the Sea of Marmara in front of me. It's a quiet Sunday morning, and the family are all sleeping. We've started our two week holiday here together with a nap, a little breakfast and a cursory flip through some guidebook and wikipedia pages.
We're on a one month European voyage. Our first leg was in Jutland in Denmark, spending six days with our dear friends Monica Nissen and Toke Moeller at their place in the lake district of central Jutland. On Friday Toke and I headed out to the west coast of Denmark, to a remote old hunting lodge near Tarm to work a little with key voices from The Natural Step International and the MSLS program in Karlskrona. It was good work and always fun jamming with Toke and good friends. Cool to see a countryside that reminds me so much of southern Ontario – rolling hills, woods and streams, farm fields and windmills. The whole landscape was changed by Danish farmers (and convict labour) starting at the end of the 19th century. It was previously heath lands and peat bogs, but in a remarkable national project following a war with Germany in the 1860s the whole countryside was repurposed for agrarian purposes and planted with beech and evergreen forest. Now it is mostly fields of corn and wheat and sugar beats and potatoes, with small patches of heath preserved where we gathered chanterelles and other forest delicacies.
Last night we left the open sandwich breakfasts and delightfully robust cheeses of Denmark for the sour yoghurt, strong coffee fresh fruit and olives of Turkey. We're ensconced here in the big city for a few days and then heading to Capadoccia and the south coast for sightseeing, visiting sacred sites and chilling on the ocean. Our trip will end at a learning village event in Slovenia hosted by the Art of Hosting worldwide community. There may be a little harvest along the way, touch ins and reflections. But mostly I'm taking it easy, reading rather than writing, sitting rather than walking, sleeping rather than eating.
Feels good.