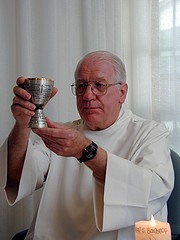 Father Brian, Photo by Peggy Holman
The Open Space community has lost one of it's stalwart elders, Father Brian Bainbridge, a Catholic priest and corporate consultant from Melbourne, Australia.  Brian was a dear friend and colleague and offered much to the shape and form of Open Space although his contributions were quiet and behind the scenes.  He trained and taught many, many Australian Open Space facilitators, wrote an informally published ebook about his experiences creating and Open Space organization in his parish and was a stalwart for the integrity of the process, curious in the multiple ways self-organization and complex adaptive systems could work.  Today on the OSLIST I shared my own recollections of Brian:
Ah.
What a blessing it was to know and be loved by Brian…a man absolutely generous in his equanimity, achingly funny and self-deprecating and absolutely committed to the integrity and effectiveness of Open Space.   I have several audio recordings of conversations I spent with him over the years.   If I can find them and clean them up, perhaps I'll get them uploaded somewhere.
As far as I know one of Brian's enduring legacies to the Open Space community was the coinage of the unofficial fifth principle: Be Prepared to Be Surprised.   Perhaps others can concur, but I always associated him strongly with that principle.   And in his death he surprised us all!   All I can think of is his mischievous smile and quiet bubbling chuckle.
The other phrase that entered my vocabulary from Brian was "It's all good."   And indeed I notice that today his death has given me a chance to revisit my feelings of tenderness and admiration and love for him, to connect with people in the OS world I haven't head from for a while and generally spend some time in my virtual home.
My favourite Brian story, a story he told me:   Once when working with a group of Australian IBM managers he listened patiently while they told him of their struggles working so far away from headquarters in an extremely hierarchical structure with an almost dogmatic approach to things.   Brian listened sympathetically for a while and then made the incisive observation: "You call yourselves Big Blue.   Well, Catholic priests have suffered this same management challenge for 1500 years and ore.   Call us Big Black."
My family is finally travelling to Melbourne in May to do some work with Viv McWaters and Anne Patillo and Geoff Brown and Johnnie Moore and we were really looking forward to seeing Brian in his own place. Alas, we won't have that chance now, but you can bet when we open space together Brian will be invoked and I will relish the chance to raise a glass and tell some stories about our patron Father, our mentor, teacher and friend.