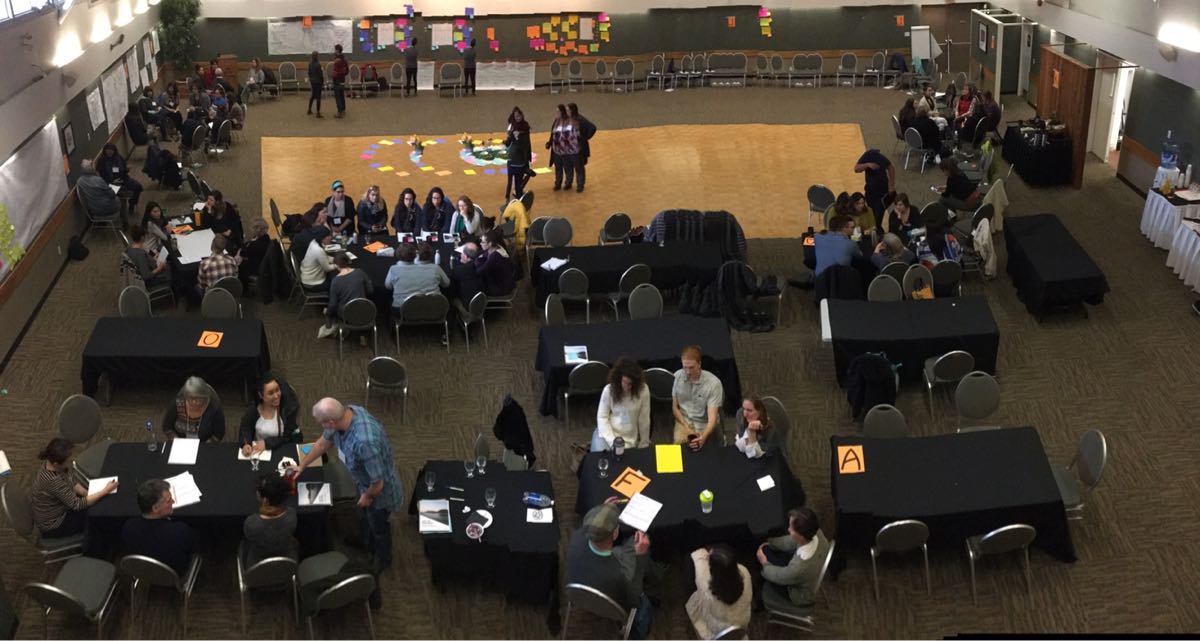 Early bird rates still available!
I first stumbled across Open Space Technology in 1995 at a large conference of the International Association of Public Participation in Whistler.  One whole day was dedicated to Open Space, and 400 people gathered to discuss their work. I still remember learning more from that day than any other aspect of the conference, and of course the biggest thing I learned was that I had come home.
For a number of years I had been facilitating groups, relying on my own ability to see and synthesize what people were talking about to help groups along.As a trained community developer though, I always had the question "how do I get myself out of the middle of facilitating and let the group do its work?"
Open Space Technology answers that question. It allows people to find each other around issues that they genuinely care about and it invites people to take responsibility for what they care about.  It is counter intuitive and by all rights it shouldn't work, but it does. It is a simple process – simply allow people to form groups around issues that they care about – and with a simple architecture to support action, it has the effect of generating new ideas and new social capital to allow organizations and communities to move quickly and together.
I have lost count of the number of hundreds Open Space events I have done, but I have applied the process to domains as different as:
conferencing and learning
conflict resolution
strategic planning
stakeholder engagement
community development
youth work
policy development
cross-cultural education
Over the years I learned that the lessons inherent in facilitating an Open Space Technology meeting are fundamental to other forms of participatory leadership.  The art of "holding space" has applications well beyond the realm of simply facilitating Open Space Technology meetings, which is why I wrote my book "The Tao Of Holding Space" as a distillation of these lessons.
Last year, after a hiatus of several years, I relaunched my Open Space Technology learning workshop which is a two day dive into the nuts and bolts of the process and it's application.  You will learn how to set up and run and Open Space meeting, how to design the intervention within organizational settings so that the outcomes are meaningful and sustainable and we'll also spend time exploring the art of holding space and the implications of that role for facilitation and leadership.
We're gathering June 1-2 in Vancouver and the early bird rate is still available. We'd love to have you.