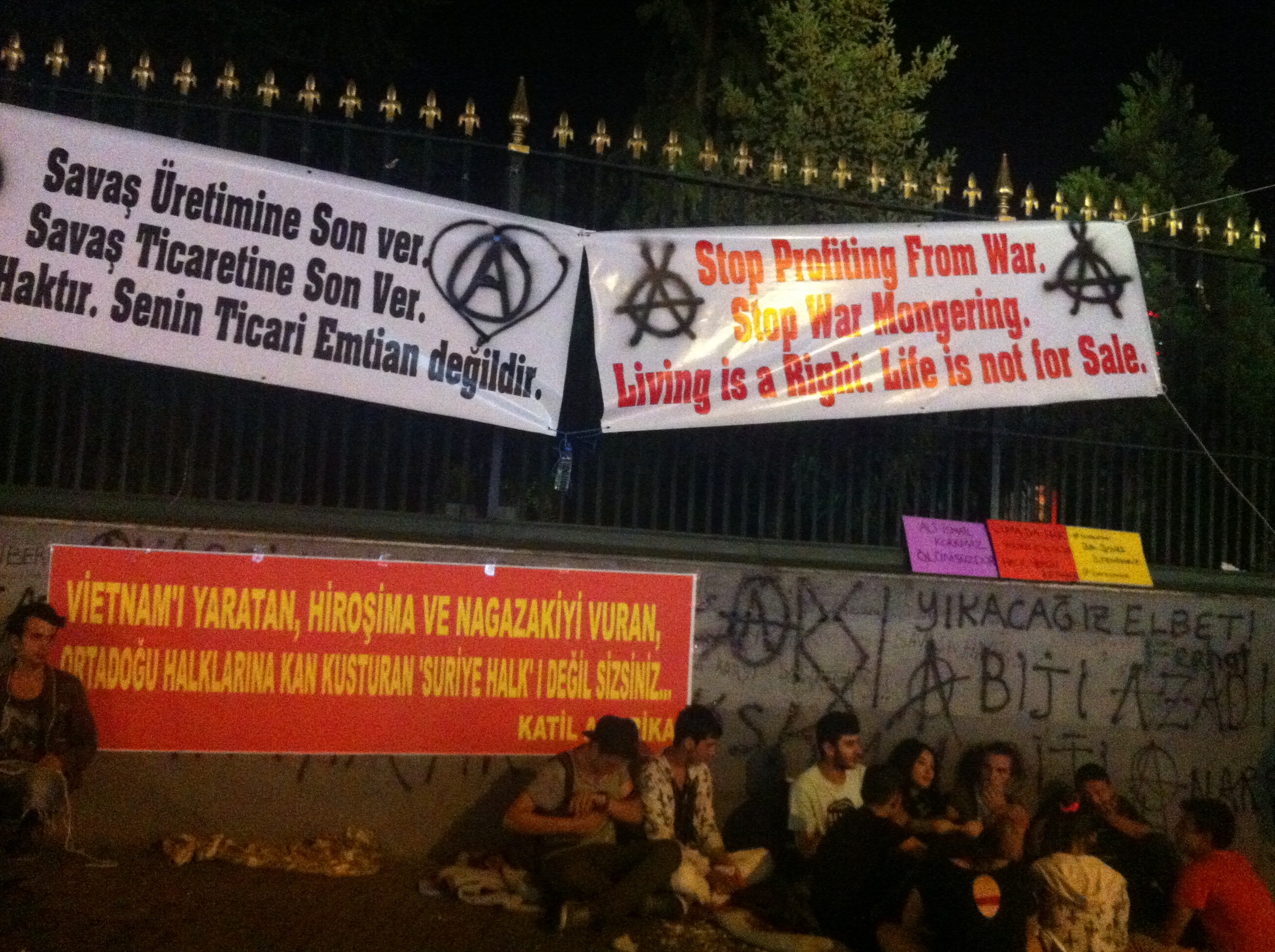 In 2014 I ran an Art of Hosting training in Istanbul with a number of friends.  Many of the people we were working with were people that had taken the energy and intentions of the 2013 Gezi Park occupation and had spread that out through democratic forums to the neighbourhood parks throughout the city and in places like Ankara to help people discuss events and organize to look after their neighbourhoods.
One day we joined a peace protest on the Galata Bridge and later that evening we gathered in the fish market for dinner, not far from Taksim Square.  Walking up there from our workshop location, we passed by a little peace camp in front of the Galatasaray school on the Ístiklal Caddesi. The campers were protesting the escalating violence in Syria.
One of our workshop participants was a well travelled young woman who had been involved in the initial revolution in Damascus and then left for Beirut when it turned violent. While we were in our workshop she was awaiting the news about whether her mother would be able to leave Syria.
We talked for a while about what the beautiful and creative initial stirrings of the revolution were like, and how social media connects us, and what it's like to be a citizen of the world, connecting with each other, trying to understand each other. And we ended the conversation with another friend reflecting on what it was like to have been in that same place the year before being chased by the Turkish police and having rubber bullets fired at her.
I recorded that conversation and was listening to it again this morning as news came through of the continued slaughter in east Aleppo and the subsequent deal to allow some residents to leave. You can listen to this conversation if you like. I won't identify any of the people on this recording. It shows humans from several countries trying to connect and make sense of impending immense violence in a world in which they have very little power.  We are just standing around talking, on our way to party, learning a thing or two about each other. I don't know why but this stark contrast reminds me that even as we hear news of overwhelming violence and chaos, there is always this also happening.
For me, that is as good a definition of peace as any.  If your heart is breaking this morning like mine is, perhaps a little connection with a few simple humans will help.