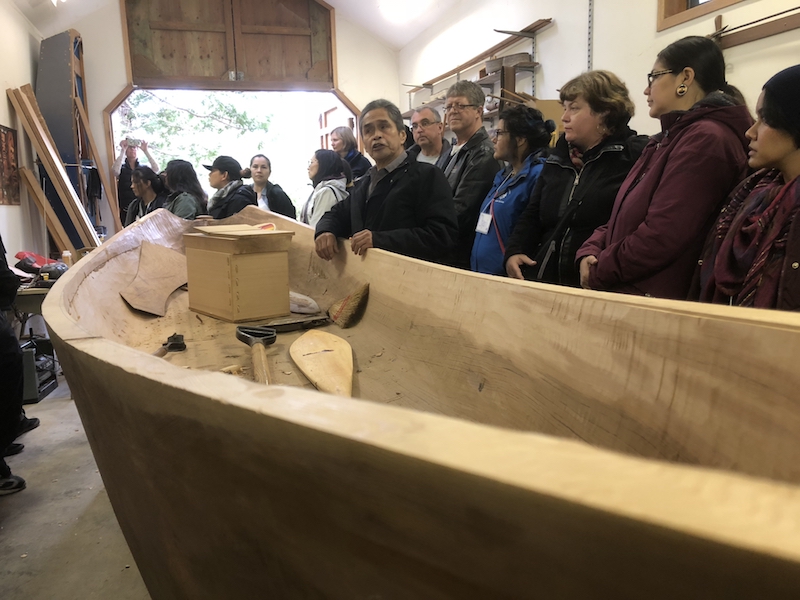 Joe Martin, a master canoe carver, who knows a thing or two about using tools.
Over the past few years, I have been thinking a lot about what it means to develop artistic mastery in facilitation/hosting practice. It's an important topic to me because I teach this work, and it's not always easy to design deep learning when people are expecting to become instantly good at facilitation after a single workshop.
The Art of Hosting is a practice founded on tools, rooted in theory. It takes time to understand and integrate this practice and become masterful at it. I often draw parallels between learning the practice and development of mastery in the arts.
Today I was sharing my experience in a kind of cheeky way with some other Art of Hosting stewards, and I wrote the following, which seems helpful:
The 14 steps of the artist's journey to mastery (based on the last 30 years of my experience)

1. Cultivate the desire to create beauty
2. Discover a medium for doing so
3. Seek the teachers who can teach you how to use the tools of your medium faithfully
4. Use the tools faithfully to make simple things.
5. Ask why things work and why they don't
6. With that knowledge, modify your tools to do what needs to be done beyond simplicity.
7. Discover the limitations of your tools.
8. Become a tool maker
9. Take on apprentices and teach them to use the tools faithfully to make simple things
10. Take on apprentices and help them reflect on why they are succeeding and failing.
11. I don't know…I haven't got there yet
12. Unimaginable to me, but I see it.
13. Wow.
14. The unrealized ideal master that I aspire to become, should I be given more than one lifetime to do so.

Along the way, be aware of the following:

self-doubt
errors at different scales
mistakes and regret
joy and surprise
the desire of others to learn from you
the feeling that you have nothing to offer them
times of steep learning and times of long periods of integration
waxing and waning of inspiration
Rule 6a applies at all times (an inside joke: Rule 6a is "Don't take yourself too f*cking seriously)