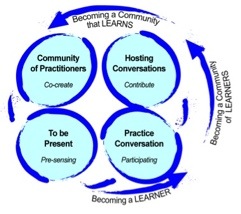 There were many leanings for me this week here in St. Paul, Minnesota. Foremost among these I think is a deep recommitment to the essential nature of the Art of Hosting: what we call the Four Fold Practice.
I admit that I haven't always given this particular model the attention it deserves, so if you have been in an Art of Hosting learning event with me at some point and you are scratching your head about it, let me explain.
In brief the four fold practice is this:
Be Present and cultivate a strong practice of hosting yourself.
Participate in conversations with deep listening and contributing from the heart
Host others with good process
Co-create a way forward together
it is simple, and it is meant to be simple. But like any real practice, it opens up a life time of learning.
When the Art of Hosting was named it was out of a sense that a new world of participatory methodologies needed a new set of deep practices for facilitators if we were to use them well. The four fold practice (or as I have been thinking of it, the four folded practice) gives us a practice ground to improve our abilities to host powerful conversations and move to wise action. I have noticed in my own life that when I act in this work without having attention to all four folds of this practice, I fall short of the abilities I know I have to host well. This practice explains how hosting is a leadership style as well, one suited for the complex questions and complex situations that we deal with as humans.
So I invite a re-engagement in the four fold practice, for all of us who are in this work.